Claiming Home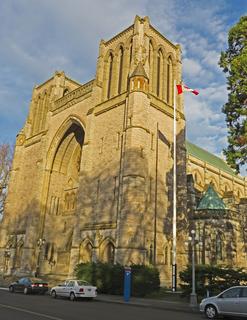 Under light drizzle, a cable TV reporter stood at the corner of Burdett Avenue and Quadra Street, leaning onto her camera like a pilgrim resting on her staff, alert for signs of movement. "They have a spokesperson, but so far I haven't gotten her to talk with me," she whispered. When a police cruiser whipped around the corner, she tore down the street, hoping to capture video footage of police interactions with Tent City residents.
Directly across Quadra, I stopped at Anglican Christ Church Cathedral, where a parishioner who gave tours told me, "I'm sympathetic, of course. I know those people need a place to live, but not
there
. I wish they'd go. The city needs to come up with a better plan."
Daily, I walked by the tent city occupying the greenspace that adjoined Victoria, British Columbia's provincial court buildings. Whenever I passed, residents were raking and bagging leaves, then storing them behind manicured shrubbery backing on the greenspace. The first day I observed 12 tents. By week's end, 24 tents in various colors, both singletons and multi-person, formed a crescent around an open space.
Every morning, warmly-dressed residents sat in a circle talking. By week's end, about 40 people—more women and young people than I earlier saw—engaged in circle conversations.
One morning, a young woman pirouetted from the greenspace and stood staring into oncoming traffic as if star gazing. I yelled, "Look at me," reached out my hand, she grabbed it, I yanked her to the sidewalk, released, and she walked on.
I asked around and pieced together that for over a decade Victoria's homeless had intermittently formed tent cities on public ground and battled with courts and police for the right to pitch tents. They scored a major victory in 2008 when B.C.'s Supreme Court determined that, if sufficient shelter space was unavailable, the homeless may erect shelter. The rationale rested on Section 7 of the Canadian Charter of Rights and Freedoms related to "life, liberty and security of person" because denying homeless people the right to camp would deprive them of sleep, something necessary "to any kind of security, liberty or human flourishing." The decision was bolstered by Section 15, guaranteeing equality before the law, because disallowing camping disproportionately affects the homeless. In response, the City created Parks Bylaws that allowed camping on Victoria's public lands between 7 p.m. (8 p.m. DST) and 7 a.m.
Victoria's police and bylaw officers often jostled homeless from slumber and yanked tents from their moorings so campers would be up and out
pronto
. Being evicted every morning exposed the homeless to inclement weather, wrought hardship on night workers who had no daytime sleeping place, and impeded formation of "home" that comes with staying put.
In summer 2015, Victoria's city government began exploring the feasibility of creating a
permanent
, sanctioned Tent City for the homeless in Topaz City Park, where homeless would not be required to remove tents during daylight hours. NIMBYs quickly opposed the proposal. After the Topaz proposal withered, the Tent City abutting the provincial courthouse began gathering. Because it occupied B.C.
provincial
land rather than Victoria
city
land, it didn't fall under Victoria's bylaws. Homeless could legally tent 24/7. However, this speck of land could offer home to only a tiny portion of Victoria's homeless.
***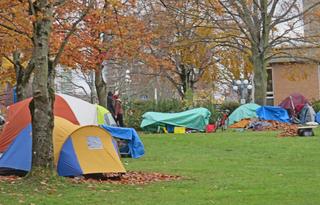 After a week of walking by, I wandered into the center of Tent City. That seemed to operate like a key. All around, people emerged, talked with neighbors, cooked and shared food, raked leaves, re-staked tents, folded bedrolls, talked on cells, tied down bikes, or readied to leave to work, pray, play, or wander into town. Residents were more diverse than I first thought: roughly 40% female, 20% First Nations, half under 35.
As I reached the epicenter, it struck me: I carry a medium-sized backpack between my shoulders. I'm dressed in layers. My running shoes' heels have been worn to nubs. I look no different from them because they look no single way. Would they think I wanted to move in?
I nearly stumbled over a woman in her late 20s, wearing a blue parka and jeans, whose "Hi there!" woke me up. I introduced myself, "I'm an old guy who sometimes writes." Seeing no objections, I asked, "Why's Tent City here? Who chooses to live here and why?"
"Lots of people hate shelters. So many rules!" she shook her head. "It's about control. The worst is, after you're settled, they kick you back onto the street. It doesn't matter what your needs are, even if you're medically fragile or mentally ill. Here, we set the rules. It's safer, especially for women. And it's ours. I'm Jane, by the way."
I asked, "What d'you want?"
"A place I can call my own, where the sun streams in, and a dog I can take on walks."
"Does Tent City have a defined leadership structure?"
"There's someone who handles PR. Somebody else handles the protest."
"Who's handling the protest?"
"That's Margaret," she said, pointing to the rear of the greenspace. When Jane's cell rang, she said, "I have to take this." I gave her space.
A man around 45, in jeans and denim jacket, was tying down a tent in the rear left. I walked over, caught his eye, "Where I can find Margaret?"
"She just left for an hour. You're welcome to hang around. I'm Mark." We shook hands.
After introducing myself, I asked, "What kind of support're you getting from the community?"
"Some sympathetic people spend a night. Law students're helping out. And donations, we get all sorts. We threw a block party to meet the neighbors too."
"What's going on when people're sitting in a circle?"
"We have an all-hands-meeting, talking circles, every morning at 10, rain or shine. If people have a dispute, that's where things get worked out."
"Would you say you're self-governing?"
"I'd call it self-management. You're welcome to join our talking circles. Or just observe. You can pitch a tent too."
A tall woman around 30 was handing out green flyers from the poverty center, telling residents, "Drop by any Thursday about possible jobs." She had a nosebleed and was doing a poor job stanching the flow with toilet paper. Five feet away, a blissed-out 30-year-old in a lumberjack jacket smiled, "Hi, I'm John."
Mark's personal campsite was littered with parts of every size, shape, and material. "Looks like you're running a repair shop," I laughed.
"I sort of am."
I noticed two wheelchairs bordering his campsite. "Does one of the residents use a wheelchair?"
"No. Those're discards. I'm harvesting parts."
"What kind of work d'you do?"
"I did condo rehabs. Things slowed down after the crash in 2008. You learn to make do."
Mark said he'd take me to Margaret in the law library. En route, he picked up a used syringe from behind the shrubbery buffering courthouse from campground.
"You're picking that up without gloves?"
"You think I need gloves with these callouses?" showing his palms. Then he called over another resident, handed her the syringe, "Please dispose of this safely."
"D'you know whose that was?"
"No idea. People jump to the conclusion it must've been a resident's. But people in those fancy houses," pointing across the street, "are just as likely to be using."
"I saw a young woman exit onto Quadra, dazed like a deer in the headlights."
"Probably somebody passing through. This is still a public thoroughfare."
At the courthouse, nobody requested ID. When we couldn't find Margaret, Mark suggested, "Maybe she's back at her tent."
"How d'you describe what you have here?" I asked.
"An experiment in cooperative living."
After we exited the service entrance, Margaret spied us and flew a flight down. Her stark visage reminded me of a Katherine Kollwitz etching.
"I'm the mayor of Tent City and interface with the law. There's supposed to be a hearing tonight at the request of the landlord but we're not invited. I'm trying to prepare for the hearing, find out who asked for it, and get myself invited."
"But how can there be a landlord? Isn't this provincial land?"
"That's why what we've heard makes no sense."
"What're you trying to accomplish through the protest?"
"I don't think of it as a protest."
"Then, what're you trying to accomplish?"
"It should be legal for us to pitch tents 24/7 on any public land. We should be allowed to stay put wherever we wish, including city property, without fear of being thrown out."
Across the street, a man around 35 headed toward us from her rear. I wondered what laws we were violating. Margaret turned when he said, "Hi, Mom. I thought you might want something to eat." He handed her a sandwich and a 7-Up. After they exchanged words about talking later, he returned to his truck.
"That was my son, one of three. Between them, they pay $10,000 a month in taxes. They say to me, 'The apple doesn't fall far from the tree. So, Mom, what's happened to the tree?' I tell them, I'm doing this is for my grandkids, so their generation has the right and choice."
"How d'you react to people saying Tent City looks like a refugee camp?"
"Do people really believe that? Have they ever seen a real one? As a child, I came to Canada as a refugee. I don't see anyone welcoming new residents here except ourselves. Nobody's managing us; we manage ourselves. When conflicts arise, we deal with them democratically. We keep the park area clean. We even look out for passers through."
"Some people call you socioeconomic refugees."
"Many of us're here because of economic displacement, disastrous social support systems, lack of affordable housing. Here's the truth: we haven't come to grips with the reality that climate change, poverty, and war make massive displacement the new normal. We haven't come to grips with the factors creating homelessness either."
"What exactly d'you want?" I asked.
"Some of us choose to live as nomads. The law should bless our choice. For the others, there should be appropriate housing, where people are allowed to create homes without somebody running their lives."
I asked, "What if you said that all of us, housed and homeless, are on a pilgrimage. We're traveling in a strange place. We own only what we carry on our backs. We're all moving toward the same elusive destination."
"I'll have to research the word 'pilgrim' to see if that helps our case. I've got to go prepare for tonight's hearing. Stop by any time to talk more. You know my tent. I've got heat so we'll be warm and I always have hot coffee."
***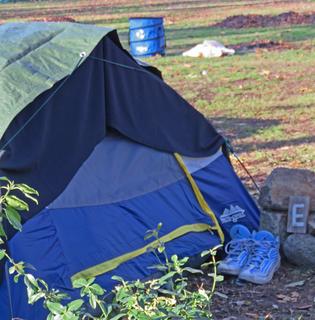 Media reported B.C.'s government planned to open two temporary shelters (My Place and the Youth Custody Centre) and transitional housing (Mount Edwards Court) to eliminate Tent City. However, because Tent City tended to attract the most marginalized and criminalized, its residents stood at competitive disadvantage in securing admission. Some wondered whether moving to Tent City would up their priority. Margaret, among the first My Place applicants, was instantly denied. Ashley Mollison, a self-styled rogue activist, told me, "The easier to house get housed first. When Mount Edwards opened as a 38-bed facility, only four people from Super In-Tent City [SIC] got in."
By Christmas, with 120 residents, SIC continued operating on principles of inclusive diversity, mutual support, and nomadic fluidity. Lean-tos became interspersed among tents. Reps of social service agencies visited daily. The Cathedral offered a warm place to escape winter's coldest days, recharge cell phones, wash up, and use restrooms. For months, two deacons participated in talking circles. One editorialized, "Jesus would have been at home in Tent City, listening, laughing and gently teaching. He embraced non-traditional sources of wisdom. We too must meet wisdom in doorways, on park benches and in Tent Cities." The Anglican Bishop of B.C., Logan McMenemie, told me, "It was the last place I visited before starting my 300-mile-walk-of-reconciliation the length of Vancouver Island, and the first on my return."
On January 8, 2016, B.C. government asked campers to move to temporary shelters. At a January 12 press conference, residents and allies rejected temporary shelters as a solution to homelessness and invited B.C.'s government to meet to discuss "lasting, sustainable, meaningful" ones. Campers claimed shelters created health and safety concerns, especially for women, but SIC fostered mutual support, offered protection, and promoted belonging. The prevailing view was, "Everybody needs a home." Said Ashley, "As people put forth their demands, they engaged in the political act of creating that world in their everyday."
SIC leadership called rent supplements, institutional housing, and shelters "false solutions" and said that, by attempting to displace SIC, the government sought to hide homelessness rather than create long-term solutions. The Alliance Against Displacement (AAD)'s The Volcano said, SIC leadership was, "building a movement for housing and against displacement as a site of people's power." SIC came to symbolize "the power of homeless people to manage their own lives and homes."
Meanwhile, NIMBYs wanted SIC's occupants removed from the neighborhood to what amounted to internment camps outside the city. Appreciating Victoria's homeless want to stay in the city where they can tap fluid networks of associates, social service agencies, potential employers, and other sources of consolation, Logan said, "The diocese evaluated unoccupied properties it owns to offer them as prospective sites on which appropriate housing might be built. However, none were suitable because all available sites were outside Victoria."
Campers were given a February 25 deadline to vacate premises. On eviction day, AAD bussed in campers from other B.C. tent cities to support SIC residents in standing ground. University of Victoria professor Bernie Pauly editorialized:
"The current offerings confuse housing with home. A house may or may not be a home, where you feel safe and welcome and experience a sense of belonging. Many residents have found a home and community on the courthouse lawn and should not be displaced until there are permanent solutions and a process for respectfully and meaningfully engaging people living in poverty in the process of developing and delivering those solutions."
After campers refused to budge, B.C.'s government applied for an injunction on February 29, claiming campers were trespassing, defied orders to leave despite offers of other housing, and compromised health and safety by creating fire hazards, defecating in and around the camp, leaving used needles and syringes in the area, and engaging in criminal activity.
On April 5, B.C's Supreme Court Chief Justice Christopher Hinkson denied the injunction request: "Any harms caused to tent city residents by displacement far outweighed the inconvenience caused by the existence of the tent city." Hinkson said displacing SIC would only exacerbate harms of homelessness by negatively impacting the health, safety and well-being of residents. He specified SIC's benefits: physical and mental health improvements (e.g., better sleep, reduction of drug-related harm, access to regular meals); greater access to social services; improved physical safety due to the strong community and resulting on-site conflict resolution and crisis de-escalation; and, safe storage for belongings. Cries of "we won" erupted in the courtroom and overflowed into SIC.
NIMBYs like Mad As Hell Victoria and Stop the Tent City encouraged neighborhood house-dwellers to call police about unwanted persons. Carrying "Homes Not Hate" placards, allies handed donuts to passersby while engaging them in conversation. The government hired Portland Hotel Society (PHS) to manage SIC and, in May, clean drinking water, flush toilets and showers were installed. Residents claimed bringing in PHS undermined their ability to run their own homes and lives. PHS insisted it was different.
Opposition coalesced in May. Unsupported allegations were made that gang elements entered SIC and that two criminal activities—drug dealing and a bicycle chop shop—used SIC as their base. In reaction to media reports of increased crime and complaints from parents that children enrolled at the Cathedral's school were at heightened risk, a deacon formally reneged the Cathedral's support of SIC.
On May 27, the fire commissioner claimed SIC failed to comply with his May 11 safety order: "Structures are larger and flow together due to the flammable tarpaulins with little or no separation between the tents. Overall the danger to life created by the fire hazards is increasing and is considered to be only a matter of time before a serious fire incident occurs." The B.C. government announced plans to request another injunction. The same day, a letter signed by over 100 B.C. academics said:
"Rather than use the coercive power of the courts and police to displace this tent city, we are calling for the province to see this moment as an opportunity to reverse policies and political processes that have caused displacement and homelessness.
"The critical question:  Will your government continue a legacy of criminalization and displacement of homeless people or will you have the courage to see tent cities as a clarion call to action to change policies and invest in the housing units needed . . . and access to essential health and social services?"
B.C.'s government again sought an injunction. It announced purchase of a 147-bed facility, touted as permanent housing. An article by Ashley in The Volcano anticipated the tricky process of "negotiating service provider rules and working toward greater resident control." On July 5, Hinkson ruled, "the encampment is unsafe for those living there and for the neighboring residents and businesses and cannot be permitted to continue." He said SIC's residents had to leave as soon as alternative housing was offered and SIC must irrevocably close by August 8. Commented Logan, "People were given only three days to register for housing. Now, there's a metal fence around Tent City. Nobody new can move in, only out." That 12-foot-high fence reinforced othering and criminalization of homeless people. Using the fence as a bulletin board, residents decorated it with posters.
On August 8, SIC residents and allies celebrated their "hard won victory" of securing commitments of $60 million from the province and $30 million from the region to address the housing needs of the homeless, including 147 beds of "permanent, supportive housing" on Johnson Street (JS). They released "collective demands for housing," which stressed resident self-determination and control; permanent homes rather than temporary shelters; processes of accountability for housing providers; absence of policing or surveillance in housing; sufficient privacy and living space; proper building maintenance; being allowed to have visitors and companion animals; and being treated with respect by housing staff.
After two months at JS, residents reported, "It is everything we hoped it wouldn't be and much worse. We continue to be criminalized. Instead of dealing with us directly, staff use the cops. Things are dire, but we are resilient!"
***
In April 2017, the JS Resident Council (RC)'s eight-month status report claimed living conditions were worse than at SIC and issued four demands for rectification:
-Recognize our rights as renters under the Residential Tenancy Act. This is not a medical facility and we are NOT sick people who need your help. We need our rights!
-Stop criminalizing us! (e.g., remove surveillance cameras and recording devices; stop calling police for mental health issues)
-Recognize our rights to freedom of expression, association, and peaceful assembly (e.g., ensure access to common rooms; recognize the RC's legitimacy)
-Ensure our rights to life, liberty and security of the person! (e.g., provide areas to cook/store food and securely store belongings)
In October, PHS announced plans to close JS's resident-run community room. Residents argued the "common room is essential for building tenant power, decreasing isolation, and promoting health. Since moving, there have been 10 deaths [at JS] compared to 1 [at SIC]. Common spaces where we can watch over each other, help each other out, talk through our issues and vision for the future, are essential to our survival." Residents temporarily regained common room access.
In November, SIC Society (SIC residents, others in temporary/precarious/supportive housing, plus housed allies) reported:
"We found home, community, safety, and security at [SIC]. The end of daily displacement was good for all. We had a home base where we could keep our belongings, take the time to start accessing other social supports and health services and get to know each other, learn to respect one another, and look after one another.
"Our previous sense of a supportive community has been taken away. Restrictive guest policies contribute to isolation, further the harms of poverty and substance use, and put people at increasing risk of poor health and overdose deaths. Supportive housing does not live up to its commitment of support in an environment that puts surveillance and control ahead of social inclusion and collaboration."

SIC Society celebrated 2017's end by re-issuing "collective demands for just housing."
***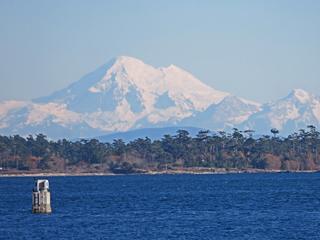 After SIC emptied, new tent cities intermittently popped elsewhere around Victoria. One of the latest in Nanaimo to Victoria's north is DisconTent City. The 70 plus tent cities emerging throughout BC, including rural areas, have experienced similar histories. New ones emerge when existing ones are shut down and residents seek alternative sites; when residents lacking basic amenities feel stigmatized; and, when governments try to hide homelessness rather work with people living in poverty to create sustainable solutions.
After the SIC experience of self-determination, belonging, mutual protection, and drawing on each other's strengths, former SIC residents entered JS motivated to perpetuate that experience. In almost all respects, SIC residents were disappointed: surveillance cameras in common areas generating records shared with police; tight partnerships with police; and barriers to inviting guests, using common rooms, and even maintaining the RC.
Hardly any former SIC residents still lived at JS in early 2018. The rest died, were evicted, or left "voluntarily." Some received their first criminal charges while living there. Margaret, Jane and Mark desperately wanted JS to work, but also fought for bigger societal changes. Margaret squeaked in and, the last I heard, still hangs on. Jane became heavily involved in the RC, was evicted with criminal mischief charges for taking action when she saw residents' rights violated, and now inhabits a forest outside Victoria. Mark, too, is again homeless.
***
A January 2, 2018 article in The Guardian by Leilani Fahra, the UN rapporteur on housing, argues that housing is a human rights issue: "Instead of viewing them as needy beneficiaries, objects of charity, or, worse, as criminals, [governments] must instead recognize that people who are homeless also have rights and are active citizens who should be involved in decisions affecting their lives." SIC Society responds, "Shelter mats will not solve the issue of encampments in parks because shelter mats are not housing. A shelter mat does not allow a person to improve their health, complicates rather than simplifies day to day functioning, and does not provide space for socializing, safety, or comfort. Shelter mats are the opposite of rights-based housing."
Bernie confides, "When I look back, if I'd done one thing differently, I wish I'd screamed louder when I saw people thoroughly stigmatizing the residents of Tent City, who lacked life's most basic amenities and resources for health. How can we stigmatize and call for the displacement of people who are incredibly resourceful but excluded from basic rights?"
Ashley confides, "When most people seeking end-of-life care ask for drugs to manage pain, they're given them, and provided with a bed and supportive care so they can die in peace. When people who are homeless ask for drugs to manage pain, such requests are labeled drug-seeking behavior, and they're told, 'Die on the street where you belong.'
Logan too confides, "We're trying to build healthier societies. That means we need to offer a range of housing alternatives to people who don't have a place to live. It's all part of creating a healthier Victoria and a healthier world. There's a tendency to think the homeless are on a pilgrimage and, because they're pilgrims, we need to offer them food, housing, solace. The thing is, it's really about our own pilgrimage as human beings."