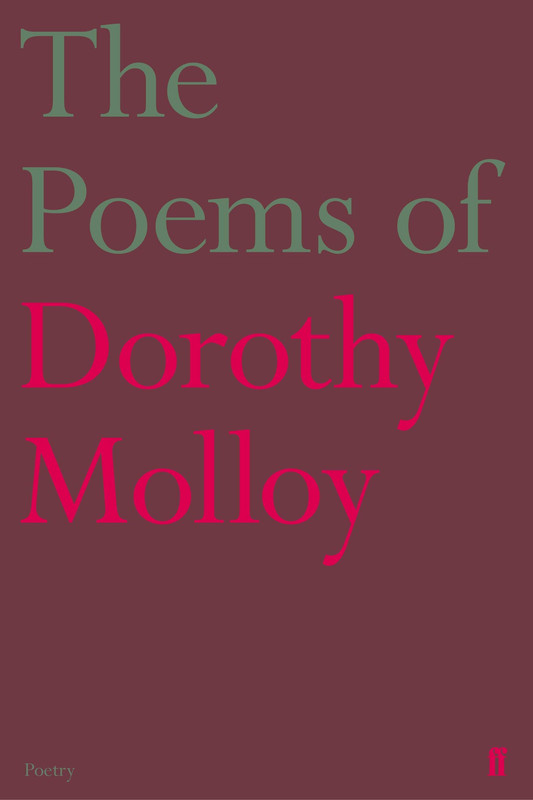 The Poems of Dorothy Molloy. Faber & Faber:  £10.99.  
Born in 1942, Dorothy Molloy starting writing poetry relatively late in her life and it is a sad irony that, having been accepted by Faber and Faber, her first collection, Hare Soup, had just been delivered by the printers in the week that she died of cancer in 2004. Prior to her commitment to poetry, she had worked as an art critic and painter. She was also a highly qualified linguist who had lived for many years in Spain. On returning to Ireland, she did research in medieval Catalan and Castilian literature leading to the award of MPhil and PhD degrees. It is not surprising, therefore, that her training in both domains, the visual arts and languages, should have left its mark upon her work: the latter in the clarity and focus of her syntax, the economy with which she achieves her effects and, above all, her relish in the sound of words; the former in her many painterly effects, as in the conclusion of 'Hare Soup':
When I stab at the O of his mouth with my little
canif, bouquets of old-fashioned roses
fall into my lap: petals shot with bright flashes
of scarlet and purple, vermilion, alizarin,
ruby, carmine and cerise. 
On its publication, Hare Soup, was received enthusiastically and, inevitably, created a demand for more. This led to the publication of two posthumous collections: Gethsemane Day (Faber & Faber. 2006) and Long-distance Swimmer (Salmon Poetry. 2009). The contents of her three published collections have now been brought together in The Poems of Dorothy Molloy, along with forty unpublished poems and four poems 'in progress'.  While it is fascinating to have nearly all the extant work of this poet in one volume, it must be borne in mind that the poet only saw one collection through the press. Moreover, it was not the poet's practice to date poems or drafts, so it's difficult to identify any lines of development. Throughout this volume one sees her constantly revisiting certain themes. Since, at the time of her death she left a relatively large number of previously unpublished poems, one might expect the law of diminishing returns to kick in as they were sifted through for each posthumous collection. However, this is not entirely the case. It is of course more than likely, that if the poet had lived longer, she might have further refined many of these poems before their publication, yet there are some here that are as good as her best. In particular, there are poems in which her clear-eyed acceptance of own mortality are all the more powerful for being written in a race against time.
To get some sense of Molloy's strengths as a poet, it might be as well to start with some of the astonishing poems she included in Hare Soup, the only collection she signed off on. It opens with a stunner, 'Conversation Class', in which she shows her ability to evoke characters in a few brief strokes: the overbearing French teacher and the timid girl who is browbeaten by her: 'I redden to the roots when Jacqueline Dupont zuts / at my French.' The humiliation reaches a climax until, just as it is about to end, the teacher offers the student a glass of Armagnac and everything is turned on its head:
My tongue is loosed. My eyes are glazed. I sing
the Marseillaise / I feel a revolution
in the red flare of my skirt.
In 'Pascual the Shepherd', she convincingly portrays a lecherous old soak leering at a couple of newlyweds. In 'Hare Soup', which has already been mentioned, she creates an atmosphere fraught with sexual anxiety that centres upon the 'idiot Didier', who makes 'cow eyes' at the protagonist, and the unbridled instincts of the dog Kruger who 'unsheathes his prick: a startle / of red, pencil thin, sticks out of his fur.' Notable character studies are also a feature of Long-Distance Swimmer: 'Waiting for Julio', with its depiction of Spanish machismo and 'Carlitos Gonzales Martínez makes a desperate bid for freedom', the title of which sounds like it could have been a short story by Gabriel García Marques.
Impressive, too, is 'A Walk in the Forest, where, immediately, the reader is mesmerised by Molloy's mastery of rhythm and sound:
Electric fences hum in the forest of Fontainebleau,
disturb the twig and branch, the hand and hoof and bristle,
and the silver-sickled tusk.
There is a natural ease in the way she underpins her lines with alliteration and the interplay  of vowels, the way the lines are propelled by shifting accents. This is the work of a poet who has an instinctive feel for the way that language affects us at an almost visceral level, so that the lines have to be read aloud and savoured with a physical relish. Thereafter, the reader is drawn into a gothic forest, such as one might find in the work of Chrétien de Troyes, where everything seems ominous: 'We cannot find the star-shaped clearing / where the five paths meet'. The only other contemporary poet I can think of, who might be capable of achieving this kind of oneiric clarity, is Molloy's exact contemporary, Eiléan Ní Chuilleanáin. Folkloric elements are also used to good effect in poems such as 'Ice Maiden' or the wonderful 'Grandma's Zoo', with its childlike vision of a dangerous world, which has to be placated by magical beasts, creatures inspired by those recollected from pre-decimal Irish currency: 'There's a zoo in Grandma's pocket: / horse and bull, fish and bird, / stag, pig and rabbit. Hound […] a charm against the foghorns / booming on the pier.'
 Like Ní Chuilleanáin, Molloy's poetry has been shaped by the Catholicism in which she was brought up and which in turn informs her feminism. Her exploration of sexuality has been hinted at above, but it's a theme which is given prominence throughout her work. There are several wry poems on the subject of marriage:
Lurching on the see-saw of marriage,
the hard plank under your bottom,
you gasp at the repeated jolts
that shiver your timbers.
(The See-saw)
In 'Eternity Ring', in which, consciously or not, she seems to be reinventing an image from Heaney's 'Mother of the Groom', she tries unsuccessfully to 'get this blasted thing off'. The poem concludes with typical dark humour: 'I dropped a bomb onto my hand / the ring is still grand'. Sex is frequently seen as a dark force that is never very far beneath the surface, as in the opening lines of 'In the makeshift village cinema':
The stalls are kitchen chairs. They're no good
for courting. The adults above on the balcony
watch every move.
The custodians of morality are here firmly in control, but elsewhere she explores male sexuality in terms of its potential for predatory violence. 'In Lady of Sorrows', she subverts H.C. Andersens's story, 'The Steadfast Tin Soldier', with a menacing refrain: 'Ratatatat,' until the inevitable occurs:
He comes goose-stepping back,
a gun in his pocket.
work to be done. Ratatat.
In the outhouse he plugs her
– love-bites on earlobe
and nape – shoots himself
in the crotch.
In 'Les Grands Seigneurs, the protagonist works though a litany of romantic clichés: 'Men were my buttresses, my castellated towers, the bowers where I took my rest' only to discover that 'after she was wedded, bedded' she became 'a toy, a plaything, little woman, wife, a bit of fluff'. 
It might be tempting to associate the somewhat tortured sexuality in some of Molloy's poems with her Catholicism.  Be that as it may, religion clearly informs many of them. 'The Infant of Prague' is a mock-baroque vision which gives her plenty of scope to indulge her descriptive skills, but beyond that she evokes the sense of guilt which is so frequently a part of one's Catholic inheritance: 'He looks into my soul, sees the sixpence I stole / from my grandmother's purse.' There's a scary description of nuns in 'Black Flies' with, as elsewhere, an appropriately menacing refrain: 'Black flies on the floor'; while 'Plaint' catalogues various sites of pilgrimage with their associated relics, culminating, somewhat grotesquely, with le Saint Prépuce.
The inclusion in this collected edition of so many previously unpublished poems is a welcome opportunity to gain further insight into the poet's creative processes.  Of particular interest are the extended narratives, the lengthiest of which, 'The Loneliness of Catherine the Great', stretches out over fifteen pages in twenty-one sections and which she may still have been working on. Then there is 'Alcossebre', which, although it might also have received further attention, is nonetheless a sustained and rapturous celebration of life, all the more powerful given the circumstances under which it was written:
The thing to do is to get into water.
Salt water slaking the heat.
The beat of waves under the tin-can
sun, flashing silver into the corners
of my eyes. The skies too blue to bear.
Memorable, too, are some of her briefest pieces, which have an affinity with the work of Stevie Smith and give the reader a further insight into her grit and defiance:
I built myself a harbour made of granite
with cunning steps and lighthouse fiercely flashing
for I am weak and vulnerable, dammit.
Lyrical, moving, sassy, Dorothy Molloy was a unique voice in Irish poetry and this collected edition is a book to be returned to and cherished. By way of conclusion, one can do no better than to quote from the brief 'Credo', which she left among her final drafts: 'The one essential thing is for my voice to ring out in the cosmos and to use, to this end, every available second. Everything else must serve this. This is being in love with life.'
by David Cooke